2023 Chevrolet Silverado 1500

2023 Chevrolet Silverado 1500 in Simcoe, ON
The Chevrolet Silverado 1500 is a popular pickup truck known for its rugged durability and powerful performance. This truck is the latest iteration of Chevrolet's iconic Silverado line and features numerous upgrades and improvements over its predecessor. With a spacious cabin, advanced technology, and improved fuel efficiency, the 2023 Chevrolet Silverado 1500 is shaping up to be the ultimate workhorse for all your needs. Whether hauling heavy loads or cruising around town, this pickup truck is built to handle it all. Keep reading to learn more!
2023 Chevrolet Silverado 1500 Interior
The interior of the 2023 Chevrolet Silverado 1500 is designed with the driver and passengers in mind. It offers a spacious and comfortable cabin with plenty of room for people and cargo. The front seats are supportive and adjustable, with options for both heating and cooling. The rear seats are also comfortable and provide ample space for passengers. The interior materials are of high quality and designed to last, with a variety of options available to suit your style and budget.
The 2023 Chevrolet Silverado 1500 also offers plenty of storage options. It has a large centre console, door pockets, and an available cargo management system. The truck also features an available rear-seat storage system, which provides extra space for larger items.

2023 Chevrolet Silverado 1500 Performance Features
Performance is one of the strongest selling points of the 2023 Chevrolet Silverado 1500. It has many powerful engine options, including a 3.0-litre inline-six Duramax engine, a 5.3-litre V8, and a 6.2-litre V8. Each engine comes with a 10-speed automatic transmission and can deliver impressive acceleration and towing capacity. The 3.0-litre V6 engine can produce 305 horsepower and 495 lb-ft of torque, while the 5.3-litre V8 engine produces 355 horsepower and 383 lb-ft of torque. The top-of-the-line 6.2-litre V8 engine is an absolute powerhouse, producing 420 horsepower and 460 lb-ft of torque.
The 2023 Chevrolet Silverado 1500 is a competent truck, delivering exceptional performance and versatility in various driving conditions. One of the key capabilities of this vehicle is its impressive towing capacity, with a maximum of up to 13,300 pounds. Another capability of the 2023 Chevrolet Silverado 1500 is its ability to handle tough off-road conditions. With its available four-wheel-drive system and high ground clearance, this truck can easily navigate challenging terrain.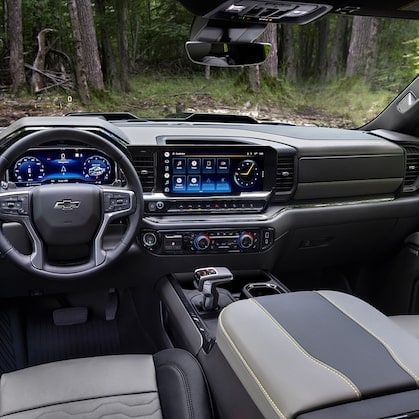 2023 Chevrolet Silverado 1500 Exterior
The 2023 Chevrolet Silverado 1500 offers a great combination of style and functionality in its exterior design. From the front grille to the tailgate, the truck has been designed to make a statement. The front grille features Chevrolet's signature design and has a sleek and glossy black finish. The LED lighting system provides excellent visibility and helps the truck stand out. This vehicle also offers a range of colour options, including some exciting new shades that are sure to appeal to those who want to make a statement.
The exterior of the 2023 Chevrolet Silverado 1500 has been designed with functionality in mind. The truck's bed is strong enough to carry cargo up to 2,270 pounds and has a series of tie-down points to help keep your load secure. The tailgate is also easy to open and close, making it simple to load and unload your cargo.
Visit Us Today!
The 2023 Chevrolet Silverado 1500 is a versatile and powerful pickup truck that's perfect for anyone looking for a reliable workhorse or an enjoyable daily driver. With its range of engines, innovative technologies, and spacious interior, the Silverado 1500 has everything you need to get the job done. If you're interested in learning more about the 2023 Chevrolet Silverado 1500 in Simcoe, ON, visit Robinson Chevrolet Buick GMC Simcoe today. Our Finance Centre can also assist you with finding the perfect financing solution to suit your budget.